The Bhawani Sword.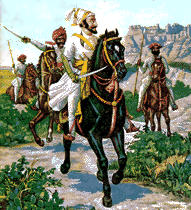 A sword 3 feet 9 inches long in the blade, and 8 inches long in the handle, bearing an inscription in Marathi characters "Shrimant Sarkar Rajmandal Raja Shahu Kadim Avval," is preserved for worship as the identical weapon used by the great Shivaji. It is, however, very questionable whether it is the true Bhawani sword. It is reported that the true Bhawani sword, which was presented to Shivaji by the Sawants of Sawantwadi in 1661, and blessed by the guardian deity, the Goddess Bhawani, as an invincible weapon to carry him safe against all odds, was removed to Kolhapur by Tarabai, the widow of Rajaram. From there on the occasion of the visit of the Prince of Wales (now H. M. King-Emperor Edward VII.) to India in 1855, the sword was presented to His Royal Highness and was then conveyed to England. It was exhibited in the Universal Exhibition of Paris in 1878, and Sir George Birdwood made a special reference to it in his guide-book to the Exhibition. The sword was afterwards kept in the museum at South Kensington.



The present sword in the Satara archives is mentioned by Grant Duff in the following terms in 1826 : "The sword which he (Shivaji) constantly used, and which he named after the Goddess Bhawani, is still preserved by the Raja of Satara with the utmost veneration, and has all the honours of an idol paid to it."
In this conflict of testimony it is permissible to suggest that the present sword may be another sword also used by the great Shivaji called 'Tulja,' and that it is still worshipped as the original Bhawani, as being the more famous and successful of the weapons used by the founder of the Maratha Empire.


Return to Main